Thespina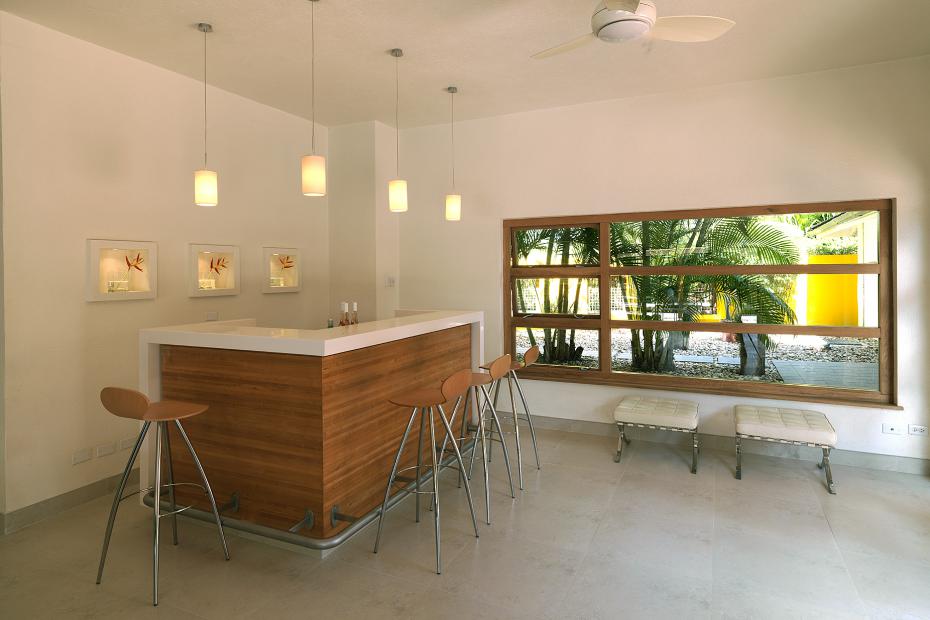 "The term Caribbean Chic springs to mind when entering this home….. …for anyone looking to own a signature beach front property Thespina is a must see." - Sotheby's International Realty.

This project typifies what we love to design - Tropical modern with a contemporary splash of colour.
Thespina is tucked away amongst a grove of beautiful mature trees on the desirable west coast of Barbados, just steps away from the calm waters of the Caribbean Sea. We provided the architectural and interior design services for the complete remodelling of this 1950's property; a unique 2 storey house with its 2-bedroom cottage and outdoor dining gazebo.
The exterior form was generally retained and refurbished, except for the addition of a red cube to form the main entrance. A series of sculptural garden walls in yellow & white were inserted to create courtyard spaces, allowing the living spaces to look out to the garden while retaining an element of privacy. On entering the house, the open plan living areas draws you through to the large terraces, covered patios, hardwood decks and impeccably maintained gardens - perfect for entertaining. A new custom bar sits like a cube in the corner of the living space – the pure white solid surfacing folds around a butcher block maple front.
The existing lattice doors and louver windows were replaced with bespoke glass doors and windows framed with American white oak to ensure the interior spaces enjoy plenty of natural light and provide a visual link with the outdoors. Natural Glazed porcelain tiles and Maple flooring are contrasted against the existing traditional coral rendered feature walls – all helping to distinguish this home from the more traditional. The stairs to the first floor are clad with matching maple treads and a new stainless steel balustrade was installed. The master bedroom is fitted with custom designed master bed and built-in wardrobes all fabricated in maple. Particular attention was paid to the bathroom spaces where natural textures and materials such as pebbles and bamboo create a tranquil atmosphere - bath time is most certainly a tropical experience within a contained space.
We were fortunate to have a great client who was extremely active in participating in the project, allowed for a fair share of experimentation and had the courage to try something that was a bit new. If we could work on projects like this every day we would be very happy.
Location
Church Point, St. James, Barbados
Stage
Completed 2005.
Size
4500 sq. ft. / 420 sq. m.
Contractor
Shelbury Construction Inc.
Eco Features
Design maximises natural ventilation and day-lighting
Hot water provided by solar panels
Low / dual flush toilets installed
Photography - Brian Lewis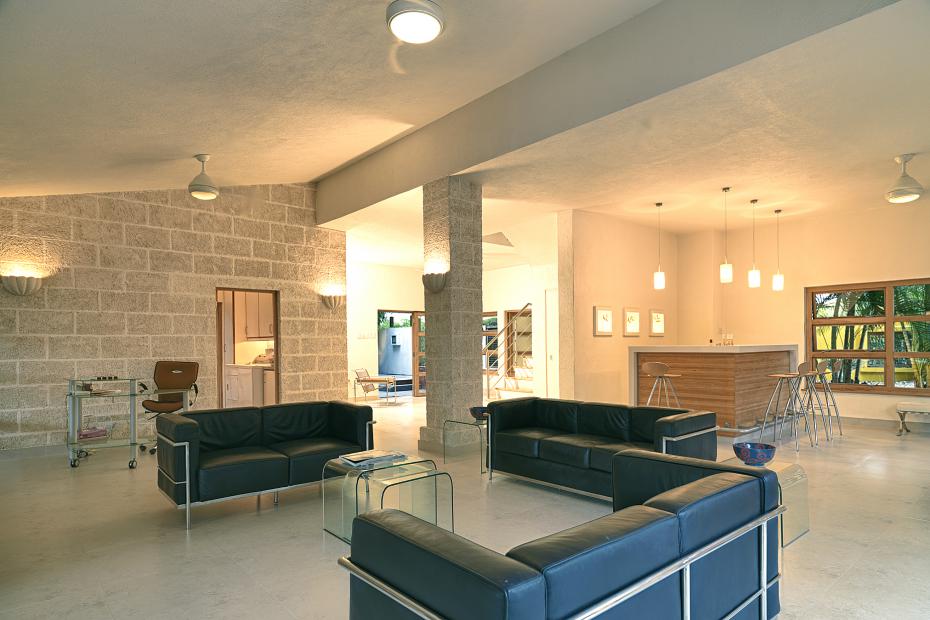 Back To List