Staplegrove Master Plan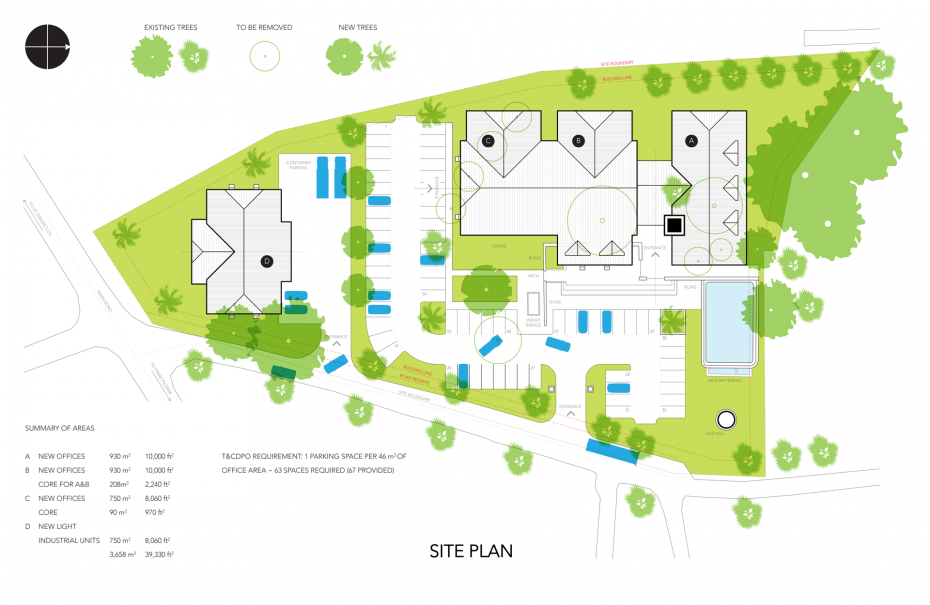 Approached down an avenue of Royal palms, Staple Grove plantation yard is a remnant of the sugar industry with its collection of ruins, derelict structures, cranes and an old coral stone windmill. We were charged with preparing a master plan for its redevelopment and submitting an outline planning application.
The proposed development included a two (2) storey office building and light industrial warehouses with mezzanine offices. The buildings were located to avoid the majority of the existing trees and incorporate a number of the old factory features such as the weigh bridge and crane, the water cooling tank and the old mill. The architectural style proposed is complimentary to the heritage origins of the site.
Location
Staplegrove, Christ Church , Barbados
Stage
Outline Planning Application 2009.
Size
39330 sq. ft. / 3658 sq. m.
Consultants
Planners
– Ecoisle Consulting Inc.
Eco Features
Existing Trees retained and augmented

Landscape areas maximised

Parking bays to be finished with grass paving/ grass-crete

Existing factory equipment and features retained as heritage exhibits

Existing water cooling tank to be used for rainwater harvesting and as water feature

Back To List