Oran Ltd Facade and Store Front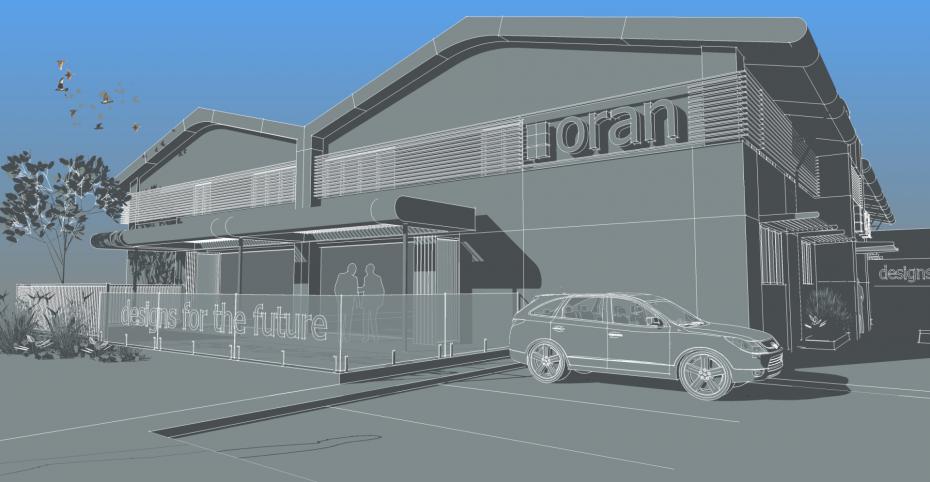 Oran Limited commenced operations in 1964 as a manufacturer of high quality aluminum products, specializing in windows, doors, furniture and architectural items. They currently operate a 120,000sqft factory and retail store employing over 250 persons at the Harbor Road Industrial Park in Bridgetown, Barbados.
When they wanted to upgrade the "look and feel" of their headquarters and retail store for their 50th anniversary celebrations they engaged us to prepare designs which would utilize and showcase their products.
The design reconfigures the external areas to organize the customer parking, provide a designated truck parking / collection bay and create a new main entrance clad with colored glass. Along the main road we positioned a new canopy with a motorized opening roof to create an external showroom for displaying furniture and products. The display area is enclosed by utilizing their balustrade products in glass and vertical louvers. Above the canopy a band of horizontal louvers wrap around the 2 elevations to provide shade to the windows while aluminium cladding is used to accentuate the eaves and roofline. New signage is positioned to maximize visibility above the new entrance and on the corner of the building.
Location
Bridgetown, St. Michael, Barbados
Stage
Concept Design 2015.
Size
11865 sq. ft. / 1102 sq. m.
Eco Features
Aluminium Bries Soliel sunshades
Back To List